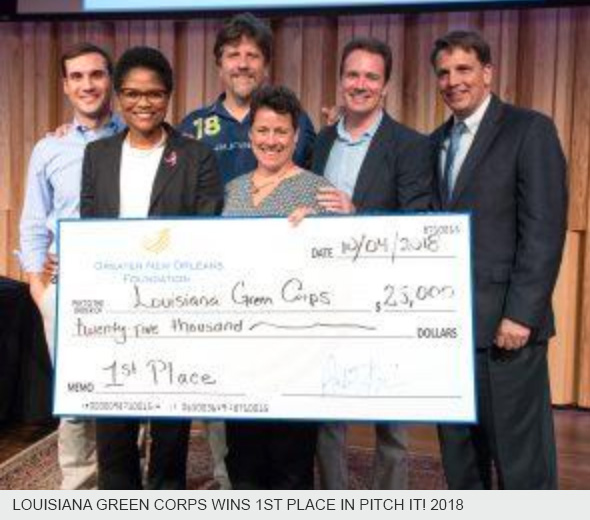 Louisiana Green Corps Wins Greater New Orleans Foundation's Pitch It! The Innovation Challenge
The New Orleans Stormwater Training Corps (NOSTC) is an initiative between Louisiana Green Corps, a job training program for young adults, Greenman Dan, Inc., a landscape company specializing in stormwater management and Home by Hand, a non profit, that builds energy efficient homes for low to moderate income families.
NOSTC will recruit and train young adults to install and maintain stormwater systems like rain gardens and french drains for residents at a reduced cost while building a workforce for the growing industry of stormwater management.
NOSTC will be a part of the 12-14 week training offered by Louisiana Green Corps. During the 12-14 week training, students also learn energy efficiency/weatherization and basic construction. Students earn nationally recognized certifications while in the program. Upon completion of the program, graduates are assisted in finding full-time employment where they can earn a living wage and where there if room for upward mobility.
(October 11, 2018 | New Orleans, LA) The Greater New Orleans Foundation is pleased to announce that Louisiana Green Corps won first place of Pitch It! The Innovation Challenge, which is made possible thanks to generous support from the Kresge Foundation, Chevron, and Lorraine and Scott Chotin. Family Service of Greater New Orleans won second place, and Habitat for Humanity St. Tammany West rounded out the winners placing third place for innovative ideas to increase impact in our region. A total of $37,500 was awarded to this year's winners.
Now in its sixth year, Pitch It! The Innovation Challenge has invested over $220,000 to fund a novel approach, an innovative product, a new process, or an innovative service that supports a unique way of doing business in the nonprofit sector.
"Pitch It! 2018 was a tremendous success," said Joann Ricci, vice president of organizational effectiveness at the Greater New Orleans Foundation. "Thanks to our partnership with the Kresge Foundation, Chevron, and Lorraine and Scott Chotin, this impactful innovation challenge encourages nonprofits to find those solutions that lead improved service delivery, increased efficiency, or reach of new populations in need. All three finalists are great nonprofits and I can't wait to see how their innovative ideas improve outcomes for people across our region."
Special thanks to our panel of expert judges: J. Scott Chotin, Civic Leader and Philanthropist; Lauren Buggs, Public Affairs Representative, Chevron; Yvette Ruiz, Vice President, Office on Nonprofit Engagement, JPMorgan Chase; and Michael Shaw, Program Officer Human Services, The Kresge Foundation.
The mission of the Greater New Orleans Foundation is to drive positive impact through philanthropy, leadership and action. Through its Organizational Effectiveness Initiative, the Greater New Orleans Foundation is supporting the regions nonprofits by ensuring they benefit from good management and strong governance, allowing them to better deliver programs that serve the community. In 2018 so far, the Organizational Effectiveness Initiative has led 29 learning opportunities with 795 attendees covering a variety of topics, including board governance, financial management and leadership development.